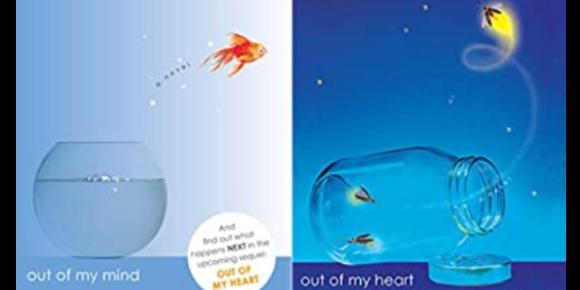 Draper's next installment into the life of 12yo Melody Brooks is a great end of summer read for all ages.  In the first book, Out of My Mind, we meet Melody as she navigates middle school with cerebral palsy (CP) (read my review here!).  In Out of My Heart, Melody gets the opportunity to go to summer camp and- wow- does she have fun!
This light-hearted but important book shows the importance of inclusivity in all things, maybe even especially in the fun parts of life!  Melody has the quintessential camp experience- arts and crafts, swimming, horse-back, campfires…and maybe even a little summer romance.  Her CP is just ONE of the characteristics that makes up Melody which is a really important message for all of us.  
Another great thing about this book is that we get to meet several of Melody's new camp friends who all have different strengths and weaknesses.  For instance, we meet Athena, a pink-loving, sweet, outgoing, dancing girl who happens to have Down Syndrome.  And the best part?  All of these kids (and the adult counselors that are there to help out) are totally accepting and even celebrating of ALL of their different parts!  Definitely an important message for us all.
Strongly recommend that you add this to your (or your elementary schooler-middle schooler's) book pile!
Oh, and if you want more information on inclusivity, check out:  https://www.inclusionproject.org/additional-resources/